Estate planning is something we recommend everyone take the proper time and care to arrange for you and your loved ones. It is vitally important to have a plan in place for yourself and your family in the event of an accident, illness or death. You have worked hard all your life for your family and have made a living, while building up your personal wealth and assets. You need to protect that for the sake of your family. If estate planning is something you've never taken the time to think about, there is no better time than now to start doing so.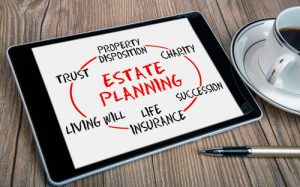 Many people don't realize until it's too late that they need to plan for future medical and living expenses needs, and that they can set the parameters for medical intervention, should that situation arise. The Law Offices of John R. Bartos and J. Bernard Shultz are experienced estate planning attorneys who are ready to help you with all aspects of trusts and estate issues.
What is Estate Planning?
Estate planning is the process of anticipating, arranging and documenting the management, execution and disposal of that person's estate during the person's life and after death. It can significantly minimize estate, gift, income and generation-skipping-transfer taxes. Estate planning typically includes planning for incapacity as well as a process of reducing or eliminating uncertainties over the administration of a probate, and maximizing the value of the estate by reducing taxes and other expenses. The ultimate goal of estate planning can be determined by your or your loved one's specific goals, and may be as simple or as complex as you or your family member would like. Guardians are often designated for minor children and beneficiaries.
Estate Planning and Wills
Establishing support and financial stability for your family members can give you comfort and give them peace of mind during a trying time. A thorough estate plan, and living will and testament will help you determine the best means for distributing your property, transferring your assets, minimizing taxes, establishing care for your children and expressing your wishes upon your death.
A will is necessary if you intend to leave property to a person or entity other than a blood relative, such as a domestic partner, a friend or a charity. If a person dies in Texas without a will, the state determines who will inherit the estate. That may or may not be who they would have preferred to be their beneficiary. A will is absolutely necessary if you intend to leave assets or property to an entity other than a blood relative, such as a domestic partner, a friend or a philanthropic cause. Handling the estate may be much more complicated and expensive than if the decedent had a properly crafted will.
An Important Part of Estate Planning
As an important part of estate planning, we recommend that you have a will. Our will packages also include—at no extra charge—Statutory Power of Attorney, Medical Power of Attorney and a Directive to Physicians, commonly called a Living Will. These are all documents that everyone should consider having. You need to be the one who decides how your estate is handled, not the state. Take the time to get these documents in order. The Law Offices of John R. Bartos and J. Bernard Shultz will draft wills and trusts that ensure your intentions are honored and will be there for your loved ones should your estate be subject to probate.
Contact an estate planning law firm you can trust—The Law Offices of John R. Bartos and J. Bernard Shultz. For estate planning services in Houston and throughout Texas, call The Law Offices of John R. Bartos and J. Bernard Shultz at 713- 861-1255 to schedule a free initial consultation.