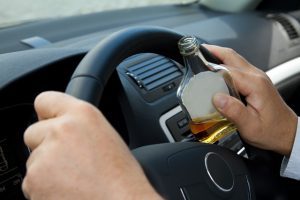 Sadly, many people are injured or killed by drunk drivers in Houston causing deadly accidents. Maybe you know story similar to this.  Kim was a star student enjoying her last summer at home in Houston before heading off to college on an engineering scholarship. She was loved by many and had a bright future ahead of her. One evening, she was returning home from a celebration with friends. She knew that late on a Friday night she should be careful of drunk drivers. Houston has many busy highways, which become dangerous when irresponsible drivers take to the road. Halfway home, someone swerved into Kim's lane too quickly for her to react, striking her car head on. One of her friends sustained minor injuries, but Kim was not as lucky. In an instant, Kim's future evaporated as she was lost much too soon in a careless accident.
Drunk Drivers Houston Cause Accidents
Unfortunately, stories like Kim's are not uncommon. According to Mothers Against Drunk Drivers, someone in the U.S. is injured every two minutes in an automobile accident involving drunk drivers. Houston law enforcement takes these statistics seriously, remaining vigilant about issuing DWIs and doing their best to keep impaired drivers off the road. They can't catch everyone, however. Studies show that, on average, two in three people will be involved in an alcohol-related collision within their lifetimes. If you have been hurt or someone you love has been injured or killed in a drunk driving accident, you need a lawyer you can trust.
Discover Powerfull Drunk Driver Attorneys Houston
AT Htown Law, we have many strong years of experience successfully representing clients involved in car and truck crashes caused by drunk drivers. Houston is only one of the many areas we serve within the state of Texas. John R. Bartos, a licensed Texas lawyer since 1981, and J. Bernard Schultz, a licensed Texas attorney since 1964, have decades of combined experience fighting for justice for those wrongfully affected by drunk driving collisions.
Speak with one of our drunk driver accident attorneys today for a Free Legal Consultation.