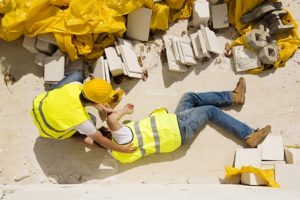 Construction site accidents Houston has sadly been a popular headline in the news lately with the big construction boom that is happening all across the city. Houston lawyers such as John Bartos and J. Bernard Schultz provide legal advice for contractors and workers hurt on work-sites. We understand that accidents and harm are an unfortunate part of most construction jobs, and we work hard to ensure that you are compensated and cared for in case of injury. As a worker, you are entitled to basic safety and care from your company.
Houston Construction Boom Causes an Increase in Construction Site Accidents
Houston's warm climate makes it ideal for construction to carry on year round.  A growing construction economy also means an increase in construction site accidents.  These accidents cause injury and sadly sometimes even death.  Construction sites can be extremely dangerous in so many ways from electrical hazards to defective equipment.  All job sites can pose potential unsafe conditions at any given time.  Crews rush their work to meet deadlines and fail to comply with building procedures.  Sometimes safety protocols are not followed and accidents occur.  Workers get injured due to unsafe conditions. Sometimes these Houston construction accidents lead to traumatic brain injury. If you or loved one has suffered a construction site accident, The Law offices of John Bartos and J. Bernard Schultz are here to help you.
Different Types of Construction Site Accidents Houston
There are several types of injuries that can occur in the process of construction and development:
Construction site falls
Cutting accidents
Fire and explosion accidents
Structure collapses
Pipe bursts causing flooded trenches
Struck by falling objects
Electrical accidents
Ladder accidents
Slips and falls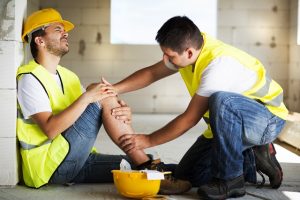 It's is very important if you are injured on the work-site to see if you are eligible for compensation in Houston. Medical bills and costly hospital visits can quickly deplete your bank account. We want to make sure you and your family are financially stable during your injury and recovery. Accident and insurance can sometimes be complicated, so it is best to trust a well-known, reputable personal injury lawyer when it comes to perusing rightful compensation for construction site accidents Houston job site workers can get representation from.
Construction Sites Can Become Hazardous  to Workers with Unsafe Working Conditions
Here at the Law offices of John Bartos and J. Bernard Schultz, we have been protecting workers for over 25 years. Having an injured loved one, and often provider, can be grave event for many. We want to make the process of getting compensation as easy as possible. Our legal experts are standing by to help you and your family through this difficult time. We work diligently to get you the financial help you deserve from your company and the insurance providers. Call us today to have all your questions about construction site accidents Houston  or construction accidents related to negligent construction.
Discover the Law Office of  John Bartos and J. Bernard Schultz for Helping Victims of Construction Accidents in the Houston Area.