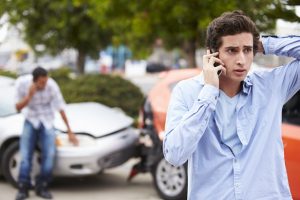 Traffic accidents are unfortunately a common occurrence in Houston and so is the need for an automobile accident lawyer to help victims. You need an ally on your side as you deal with the after effects. It is important that you speak with experienced  automobile accident lawyer in Houston  immediately.
Discover An Experienced Automobile Accident Lawyer
We have successfully represented clients involved in automobile accidents in Houston for many years. J. Bernard Schultz has been a licensed Texas lawyer since 1964 and John R. Bartos has been a licensed Texas lawyer since 1981. Both attorneys have practiced in Houston, Harris County and the surrounding counties their entire careers. They have also handled numerous serious injury cases all over the State of Texas.
Aggressive Houston Automobile Accident Lawyer
We have helped numerous clients get fairly compensated for their injuries, medical bills, lost wages and pain and suffering and mental anguish as allowed under Texas law. We are experienced in dealing with insurance companies to make sure that you are treated fairly.
Your automobile accident lawyer  are available to discuss your case in the event of a car accident, truck collision, pedestrian accidents, drunk drivers, motorcycle accident injury and more. Insurance companies have been more difficult to deal with than ever in recent years. That makes it more important that your claim be handled by an experienced Houston automobile accident lawyer to make sure that you are treated fairly. Not all cases require that a lawsuit be filed, but the insurance company will not take your claim seriously unless that possibility is kept in front of them. That is when you need to find car accident attorneys who specialize in these types of cases.
How do you get an evaluation by an experienced Houston car accident lawyers? It's easy just give us call.  If you are seriously injured, arrangements may be made for us to visit you at your home or hospital. Please contact us immediately for a no obligation, personal consultation to discuss your case. Calling now may allow us to start your case off on the right path to recovery.
What Should I Do After A Car Accident?
We recommend that you DO NOT give a statement to the other driver's insurance company without first consulting with a Houston car accident lawyer. The insurance company is not on your side. They are looking to minimize their expense and will have attorneys advising them. You should have a Houston lawyer  advising you as well. Don't think that just because you have insurance that you do not need an attorney. You need to work with an attorney to be sure that the negligence that caused your accident is fully investigated. Many times these carriers will attempt to delay, deny payment or under pay valid claims. We will evaluate your case for you for free.
We recommend that that you follow these steps from:
Contact the Police: Report the accident. You may have to go to the police station to file a report if an officer did not come to or provide you one at the scene of the accident. We can help get a copy of the police report. Keep in mind that it may take 7-10 days to get some reports.
Preserve evidence: Get contact information (Name, address, driver's license number, license plate number) for all the parties involved, including all witnesses. Draw a diagram of the accident.
Go to the hospital or to your doctor.
Contact trusted car accident lawyers in Houston: We are experienced have extensive knowledge of the law regarding Houston traffic accidents, and we want to help you. Call today for a no obligation consultation. Do not give a statement to any insurance company without contacting a lawyer first.
Keep in mind that Texas law allows only a certain amount of time in which you can file a claim for damages after a crash occurs. This time limit is known as the Statute of Limitations. In Texas, you have two years from the date of the accident to file a claim. To speak with a Houston automobile accident  lawyer for an initial legal consultation, call John R. Bartos and J. Bernard Schultz today.
This web site is designed for general information only. The information presented on this website should not be construed to be either formal legal advice or the formation of a Houston lawyer/client relationship.
Call An Automobile Accident Lawyer Today!