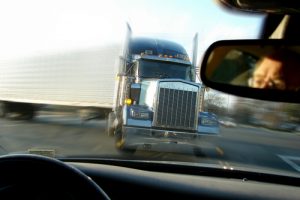 We are experienced attorneys, who have helped people that have been involved in 18-wheeler and traffic accidents in Houston, Texas for several decades. John R. Bartos has been a licensed Texas lawyer since 1981. J. Bernard Schultz has been a licensed Texas attorney since 1964. We have helped Houstonians injured by 18 wheeler and traffic accidents for over 25 years. We have also handled numerous traffic accident injury cases all over the State of Texas.
Scary Big Rig, Semi-Truck, 18-Wheeler Traffic Accidents
A collision with an 18 wheeler, semi-truck, big rig, or other large commercial vehicle can be catastrophic due to the significant weights of these vehicles and their loads. A fully loaded truck can weigh 80,000 pounds (40 tons). That is a huge difference from the weight of a typical passenger vehicle. Injuries from truck accidents can be severe and catastrophic. There are many factors involved with truck collisions that will need to be addressed by experienced personal injury attorneys.
Southeast Texas and Houston have large numbers of trucks using our freeways every day. It is imperative that these heavy vehicles be operated in a way that is safe for the motoring public. Public safety relies on qualification and training of heavy duty vehicles.
Regulations and standards that have been overlooked may be:
Truck drivers have not followed the DOT regulations in driving their vehicle.
Loads may be incorrect.
Drivers' logs may be forged.
Equipment may have not been properly maintained.
Drivers may be tired due to driving longer than allowed or be under the influence of drugs or alcohol or not be properly trained.
Other possible causes are: lack of proper driver training, equipment failure, reckless driving and cell phone use or texting while driving. It is important to have your case evaluated by experienced attorneys and we will do that for you at no charge.
What To Do in the Case of an 18-Wheeler Accident
If you or a loved one have been seriously injured contact our Houston Texas area Law Firm office to discuss your case. Do NOT give a statement to anyone with the trucking company or their insurance carrier. Talk to an experienced 18-wheeler and traffic accidents attorney first. Trucking companies commonly have their risk management personnel out at the scene of a serious truck collision. You should assure that you have the ability to have equal representation and investigation.
Call us, your Houston 18-wheeler and traffic accidents lawyers today. You will need an attorney to represent you and make sure you get the money that you deserve under the law and properly address the negligence of the driver, the trucking company and their insurance companies.
18-Wheeler and Traffic Accidents Cause Serious Injuries
If you are seriously injured in truck or car accidents, arrangements may be made for us to visit you at your home or hospital.Please contact us immediately to discuss your case. Many times an early call to an experienced 18-wheeler and traffic accidents attorneys will help reduce later problems with your case.
If You Have Been in an Serious Traffic Accident Discover the Law Offices of John Bartos and J. Bernard Schultz